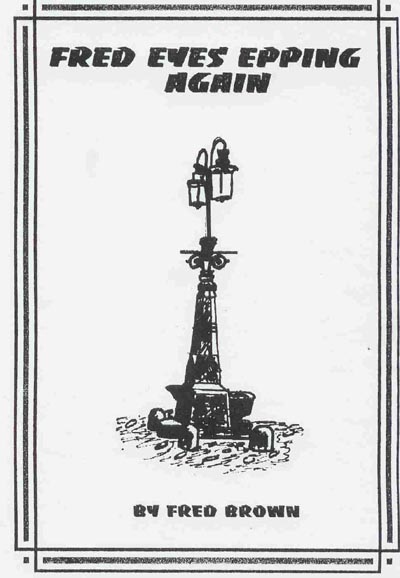 FRED EYES EPPING AGAIN

by Fred Brown

25th April 1918 - 27th July 2005

First published 1997

Mother Rosetta Elizabeth Hudgill

1868 - 1952

Epping Essex

One of the readers of "EPPING THROUGH THE EYES OF FRED" has suggested that I did not expand enough on my own background, where I came from, any autobiographic memories and further knowledge of Epping and it's characters.

Well I am going to try and do just that, having done some research and burned a little midnight oil.

I commenced "Epping" by noting it's place in the County of Essex, my County, it's privileged position in being at the top of a ridge allowing it to be relatively dry and well drained in times of storms 'and heavy rains.

It is unique in it's proximity to London and it's forest area of some 6000 acres and it has it's part in local history.

You will remember, from school, the story of Boudicca (Boadicea) Queen of the Iceni tribe who fought the Romans for a very" long time. One of her Battles was against Suetonios, the Roman General, on Ambresbury Banks in the Forest.

The Bishops owned Copped Hall and had a Manor there until dispossessed by Henry V111.

Coaches to London and the provinces came through Epping and Farmers came with livestock and produce to Waltham Market. A Buttercross was here at one time and from 1896 we have had a Council governing what was known as an Urban District and the present day a much grandiose organisation with what some would describe as a white elephant town hall.

There are of course much simpler things and more in keeping with the real Epping which I now propose to write about so...........read on so.......

CHAPTER ONE

I began life at 10.30.pm. on the night of April the twenty fifth nineteen hundred and eighteen, the last of the line of the family of Henry Alfred and Rosetta Elizabeth Brown (nee Hudgill) of 71, High Street (or Barnards Cottages as they then were), situated in roughly the middle of the small line of shops near Tesco's, to be exact, where the Epping Bookshop now is. I am told that I weighed just four and a quarter pounds. My mother was just fifty years of age and my father fifty three.

My father was descended from a very well to do family whose name was Darby, Naval people, several of whose members were of high rank, one a Lieutenant Commander, they lived in Eaton Square and Cadogan Square in the capital.

The family consisted of two daughters, Caroline and Elizabeth, and a son William.

William unfortunately was a waster. Commissioned to H.M.S. Ceres he absconded twice and was struck out of his parents' will. Stealing money from one of his sisters he went to America, changed his name to Brown and after a few years returned to England where he married and had one son, Thomas, my grandfather.

Unlike his father, my grandfather was a good man who, when I knew him, sported a white moustache and a beard. A journeyman carpenter by trade he worked at one time at Gaynes Park. He and his wife, Sarah, had five sons and one daughter, my aunt Annie

Clara. They lived in Tidy's Lane, and when they died they were both interred in St. Albans Churchyard, Coopersale.

My mother's parents had four daughters and three sons. My mother was the oldest and brought up the others as her mother died of TB at the age of forty. (Julia Chapman)

My father originally worked as a moulder for William Cottis at the foundry, then for James Whiffen as a builders labourer and finally for Miss Kathleen Pelly as a general handyman on the estate.

He died, aged 69 years, of heart disease brought on by having had rheumatic fever twice and pleurisy, first of all when he was eighteen years of age and then again when he was thirty six. This caused a strain on his heart that took him away on April 11th 1936. He was often unable to work so mother took in washing to help keep the family.

Of the families two children, a boy and a girl, died young, one only nine months old and the other at two and a half years of age. Two sisters emigrated to Canada, pre-war. One, Nellie, I never knew. Julia (Cissie) I met twice when she came back home to visit us.

Those of you fairly affluent today should remember that my mother having to take in washing was not an isolated case. All working people were in like case, and the system (just as now) decreed a means test if one applied for help (Parish Relief). Someone would come round and check your belongings, to sell whatever was of any value to pay for any debts incurred.

A man can just remember was a Mr. Pusey. A jingle of the day went something like this" Vote - Vote - Vote - for Mr. Creed, Keep old Pusey from the door". The aforementioned Mr. Creed was Councillor, Justice of the Peace and Guardian of some small business peoples' affairs, and it was generally reckoned that he wasn't entirely upright.

Enough of me then, but we were typical of the average residents of Epping.

The school in St. John's Road had been called the British School, and when my parents attended, they had to pay a small sum like a penny (in old money) to help towards their education. When I went to school all this had changed, no fees, We had to attend an infants school at five years of age and to leave school at age fourteen.

Miss Carter was my first headmistress, and then in the big school Mr A E Piper, a rather small man who ruled with a rod of iron, was the headmaster. He must have been head for some time because he had taught my brother's age group and he was fifteen years my senior. Finally I had Mr Barrington-Sharp.

Somewhere in the late twenties the school had two top floors added and became co-educational under the above mentioned Mr Sharp.

Back to Mr Piper, who lived to be ninety years of age, an excellent headmaster and cricketer. More about his sporting achievements and his contemporaries later.

When Mr Barrington-Sharp took over his, aides were, Eddie Cox, Mr Joysey, Freddie Glover, Mr Crampin, Mr Robinson, Miss Courtney, Miss Parsons and Jack Williams; all competent and excellent teachers.

My colleagues at school were, like me, from ordinary people. I do not suppose their fathers earned a princely sum at any stage of their working life. I suppose the average weekly wage was about 50/- (old money) and if one earned four pounds per week it was sufficient to buy a house with.

The major providers of work were the Copped Hall Estate, local farmers and milk rounds men, (agricultural wages were poor) the William Cottis ironworks, the brickfields and shops.

For the women there were local shops, domestic service, or if

you were lucky, a job in an office in London and, of course, local hospitals.

This chapter you will see deals with aspects of Epping's life, individuals, schools, sport and what have you.

Contemporaries are getting fewer as each year passes. Boys that I grew up and attended school with, and knew in sport as an adult. There were Ron Pettit who led a band called "The Red Swingers" comprising an accordion, piano and drums, and played locally until the outbreak of war.

Ted Hammond whose father kept a sweet and tobacconist shop near the water tower. Arthur Austin my cousin, George Sharp and Francis "Ponty" Rogers, Cecil (Brother) Austin, Les Nicholls, Reg "Mokit" Flack (so named because, when as a small boy, he picked up a cigarette end and when asked his intentions said "Mokit" - smoke it, hence his nickname. He died at Salerno, Italy), Ernie West local milkman and postman, Dennis Cole, Cyril Edridge, Bill Fathers, and Bill Wood, All alas gone now.

Fred Doe looked after me like a brother when I was a lad. A good mate, he introduced me to Ballroom Dancing and his elder brother, Jim, a local postman, talked with me and furthered my political awareness. I joined the Labour Party in 1935 at seventeen years of age. I was secretary locally after the war and served on the old Epping Urban District Council as a Councillor in the fifties with Arthur Hyde, Charles Jackson and Charles Long. At present I am the longest serving party member locally, around sixty years.

In the early days Fred North was Chairman, and Dolly Cuinn was Secretary. Jim Doe, Percy Pavitt, Eric Escott, Tich Norgate, Eddie Wall, Ernie Edridge , I also remember. Over the years Hans Iversen, Wally Cooper, Fred Newton and Jack Platten all stood for the Council, unsuccessfully. At an early General Election in the 1930's the first Labour Candidate, a Mr. Newbold, stood for election and polled just 2,000 votes and people at the count laughed when the result was declared. Jimmy Doe said "You can laugh but one day we shall have a Labour Member for Epping" and in 1945 Mrs Leah Manning became just that, as did Stan Newens a bit later on, before he represented Harlow New Town.

When I left school in 1932 work was scarce. I got a job as a milk rounds man with Herbert Nunn of Ladderstyle Farm and my workmates were Henry Kearns, Ernie West and Tom Stubbings. My pay was thirteen shillings and nine pence a week. I did two rounds per day, and a double round on Sunday with just the afternoon off.

On other local rounds were for Walter Cox of Forest Side Dairy, Charlie Webb and Decca Dunn., for Pegrums of Shaftesbury Farm, Fred Cakebread, Percy Pavitt, Tom Mears and for Walter Donaldson of Horns Farm (Bill Pearce and his wife). In those days most of the milk was carried in chums and cans. A few bottles were just being phased in.

On our local Council the Road Gang had Jack Hurley as Foreman, Charlie Ladhams, Rod Stock, Woopti Wright, Jack (Spratty) Day, Hubert Archer, Billy Wood arid Fred Trundle. Handymen, and road sweepers, Sam Smith, Daddy Windley, Jim (Slonker) Wheeler and Daniel Doe, who kept the High Street clean.

In the offices at Hawthorn Lodge, Ben Hiscott was the Town Clerk (and Bandmaster of the town's Silver Band) assisted by Joan Middleton. Harry Mead was the Surveyor and Sanitary Inspector assisted by Bob Powdrill, later by Ted Start. Jimmy Hoy was Treasurer with Pedlar Palmer and Miss Winnie Green, Rent Collector and Office Staff. Winnie is still, happily. with us, she taught me how to sing as a boy when I attended the Methodist Church.

CHAPTER TWO

Just prior to the 1900's the Urban District Council in Epping had been formed from the old Drainage Committee and the Council Chamber was the Town Hall, formerly a skating rink and later the Empire Cinema and, in recent times, the first Tesco Store.

The Council then had other venues until finally Hawthorn Lodge where it stayed until its move to the Armoury Sports Centre in 1972. The change in 1974 brought about today's larger authority, the current Epping Forest District Council with its expensive Town Hall.

An alternative to this could have been a combination of the old Urban District Council and the Epping and Ongar Rural District Council, who had an excellent home on the site of today's wondrous costly place. This would have made a smaller much more viable unit, which, with some alteration to the Council Chamber would have sufficed, leaving Loughton, Chigwell and Waltham Abbey as a separate entity and no necessity for the little parish type organisations such as the Town Council, giving much less costly, more effective, and more democratic local government.

Since the second World War, the sewage system has had to be altered due to the greater volume of properties being built. The previous system which existed obviously was not planned for the amount of building necessary due to the influx of people from elsewhere into Epping, and it did cause the sewer to be overloaded and obsolete, to break down and crumble and, in some cases, collapse.

Because of this a reorganisation had to be carried out which did away with the outfall and treatment works at Cobbins Brook, all the sewage and effluent being pumped to the Southern Outfall near Fiddlers Hamlet as today.

Lots of changes have taken place in Epping since the cessation of the second world war.

Returning servicemen needed housing so right away from 1945 yearly building allocations tried to put a quart into a pint pot. Building land was, and still is, scarce, as the Greenbelt surrounding us rightly should not be destroyed otherwise Epping would become a suburb of London and it's identity lost. Fortunately the forest saves us from this fate. Council estates however, - built at Lindsey Street (Beaconfield Estate), at Centre Drive and at Coopersale (Parklands), plus private building and infilling has increased the population to over 12,000.

The current Sports Centre was the home of the Royal Engineers and the 4th Battalion the Essex Regiment to which I shall return later on. Before the war dances and Flower Shows were held in the Drill Hall. A band from Loughton under Jack Shearmur provided the music for dancing for well over a hundred people from 8.pm. until midnight and a good time was usually had by all.

I often wonder if the war gave my generation a sense of urgency. You see we had lost six years of our lives due to the war time for which there was no real accounting from the living point of view. Although undoubtedly necessary the war was a complete waste of time, time which could not be replaced. Who ever made us did not suddenly reverse these years so that we carried on a before, it was not possible, so it behoved us to redress the balance by catching up if we could.

I had played cricket locally with other friends pre-war, but found it very costly to play for the Town Team at Bury Lane, so with colleagues I set about forming a Cricket Club which was within the pockets of the ordinary man.

With permission from the Corporation of London, the Allnutts Sports Club (now Epping Foresters) cut out the cricket pitch on Mill Plain, which now sits upon the top of the M25 motorway.

For the record here are the. names of those who did the work, Arthur Youngs, Arthur Austin, Bill Fathers, Bill Wood, George and Bill Adams, Brian Parrish, Jack Day, Tom Crouch, Cyril Edridge, and your truly as Secretary. With spades, mattocks and a horse and cart we stubbed and dug up all the water grass and reeds, which was used to fill up bomb holes just off of the wicket site. The rest was dispersed about the forest edge and quickly broke down and disappeared.

Walter Nunn from Mill House Farm was a great help. Bill Wood worked in a Nursery and kept Mr. Nunn supplied with tomatoes and cucumbers. In return we had the use of a horse and cart and other equipment which enabled us to clear the area and get it ready as a pitch. Just prior to Christmas 1947 we laid a table twenty five yards square and in the following May play commenced and is happily still being played.

Much has been said by folk who think that they know about the Foresters Cricket Pitch. Just let me say that when we got permission to make the wicket and pitch no one even thought about a motorway like the M25, and the members of the club saw no reason why, when it came to it, the ground should not be put back as it was after the M25 had gone through it. They did not ask for the reinstatement to be costly, and let me add, that had it been any sort of organisation using that area they would have been equally entitled to have it made good. There are other interests besides television, videos and the like and these cricketers are enjoying their sport and, at the same time, giving enjoyment to those people who come to watch...MORE POWER TO THEIR ELBOW.

At roughly the same time I was involved in another innovation in Epping. In common with others I was a member of the Epping Floral Society, which had been a flourishing organisation at one time. With the help of the local constabulary a big yearly show was held in one of the fields at Wintry Park farm, courtesy of Jimmy Foulds, and many eminent people, Colonel Wall, Bertie Collison, Ben Hyde among them, supported it.

In my time Doug Gooday was Secretary, George Barnes the Chairman, Cyril Largen and Eddie Potter served on the Committee, and then it folded through lack of support. To fill this void I initiated and helped form the Fuchsia Society which is still going strong and I am happy to be its President. This started with an inaugural meeting of just seven people in the Mechanics Institute consisting of, apart from myself, Bob Strange as Chairman, John Maynard as Show Secretary, George Thurston as Treasurer, with Brian (Nobby) Clark, Arthur Hyde and Denny Godfrey. From this meeting in April we had our first show in August, with about twenty members, in the St. Johns Hall in St. Johns Road.

During this time Epping Town Football Club had reformed as had Epping Cricket Club and I have been fortunate in receiving help with some research as to the origins of the Cricket Club.

Cricket matches were first reported in Epping in 1768 when the town played at Ware in Hertfordshire for a sum of £50 between the teams. This game ran into two days because of rain, and runs were recorded by cutting notches on a stick.

Ware batted first. The first four players made eighty notches but the other six were bowled out for nought. The next day Epping batted and made ninety five notches, so winning the game. In 1856 Epping played on The Plain, opposite St. Margaret's Hospital (the the old Workhouse). Then in 1857 they moved to "Northlands" a the rear of Dr Watney's surgery, down Buttercross Lane and, after a few seasons, they went to Lynceley Grange in Lindsey Street.

In the early 1880's the Cable family started a Bell Common cricket club and played there. This came about through an Essex competition which left some members without a game so, back on the Plain, Epping Victoria was started.

Eventually a Public Meeting was called by the Epping Cricket Club which amalgamated all the teams and players and in 1896 the Bury Lane ground was opened. Incidentally in the Lynceley Grange days our friend Dr Clegg, the man associated with ensuring a proper water supply in Epping, played. The Rev Buckmaster donated the Pavilion and the Cable family erected it and also helped with the finance. At it's opening a supporter offered £5 for the first man to score one hundred runs, A J Cable got to ninety nine before being caught at point. Nobody scored a "ton" that year so the offer was withdrawn.

At the end of the first world war play was started up again and, up until the second world war started, it was a formidable side and was recognised as one of the best teams in the area. Players in the early days at Bury Lane were Alf Cable, Frank Cable, Walter Cable, a Mr. Allthorn, Messrs Rivington, Manfield, Mann, MacAndrews, Tavener, AG Sworder and A E Piper (Schoolmaster).

Today's players, and with no disrespect, are not as strong. Teams can only be as good as the players belonging and performing, but the Club is still going strong, that is the main thing when you consider the demise of the Football Club in 1988. The Pavilion has just had a face lift and other facilities are all there for local sportsmen to take advantage of, if they choose.

Since the second war other well known people have played, Harry Mead (the Council's Surveyor), Billy Osborne, Fred and George Mansfield, Albert' Sanderson, Fred Whiting, Charlie Chambers, Peter Randall, Frank Debnam, Freddie Silcock, Dick Walker, Bill Johnson, Fred Day, Bill Stock, Eric Wood, Jerry Willett, John Bird, yours truly, and my nephew Tom Brown, Ron and Nobby Emery and lots more, plus, I almost forgot, Bobby Rolfe, a more than useful player.

Quite a few of the above mentioned players also played football, either down Bury Lane or on the playing fields at Stonards Hill. But now, unfortunately, no Epping Town team but several smaller clubs so there is a fair smattering of sports facilities available as well as a Sports Centre, where the local Town Council is now based, where lots of useful activities are carried on.

I shall come back to some pre-war facilities again in another chapter.

CHAPTER THREE

Every town and village had it's eccentrics; people who, through infirmity of some kind, or poor social upbringing, were quite intelligent but had some quirky ways.

In my previous Epping Book I gave you some eccentrics like Albert "Tax" Courtney, and Arthur "Titty" Styles, so here are some more. I do not propose to humiliate or to be condescending but to show some of their activities.

Jack Chapman known as "Ruddles" lived in Ivy Chimneys. A big strong man and when at labouring work on road schemes or building was known to carry two half hundredweights of cement at one time, to the normal labourers one. He had a brother, unfortunately a simpleton, known as "Puss Pelly" who once attempted to make a steamed pudding in a kettle and wondered why it would not pour from the spout.

Arthur "Titty" Styles, it is said, went to the Theydon Garnon Church on his wedding day and when asked by the Vicar if "He would take this women to be his wedded wife" said 'I come a puppas (purpose)'.

Tippeny Marsh had a hair lip and a squeaky voice and lived with his sister Sally in a cottage down behind the current Co-op Stores in the High Street. A little simple he tried to do simple jobs. One Joe Stace, a local tradesman, got him to take a horse and cart down Bower Hill to deliver something. Tippeny left the horse unattended, something frightened it and it bolted.

Charlie "Charcoal" Porter had a stammer, he worked down Bower Hill at the local gas works and invariably looked as black as coal. On one occasion, at a local football match, "Charcoal" was on the line and an Epping man was tripped up by an opposing player. Our friend said "H-h-h hey mate, th-th-thats not football, kicking a man when he's down." The player turned to Charcoal and said "Why don't you go and have a wash".

Two local worthies Ralph Hyde and Kitch Lucking, one a good carpenter and the other an electrician, stood one evening under Twankhams Alley eating fish and chips from nearby "Ossies" and, on finishing, threw the paper down into the street just as a policeman came along. The result, both fined 10/-. It served them right because a waste paper bin was only about four yards away.

George Doe, (Provost Sgt. Essex Regt Police), the same Police Sergeant you will meet in the next chapter, approached Coopersale Institute one evening in thick snow to attend a dance and found Freddy Chase being snowballed by several men. George decided to help Freddy but unfortunately scooped up a stone with the snow. A direct hit splitting open' one chaps ear resulted in George and Freddy making themselves scarce.

Another lovely man who should not be forgotten; I wonder if there is still anyone around who had a ride on Douglas Penrose three wheeled invalid chair. Douglas was a crippled organist who lived in Nicholl Road.. He was always seen about somewhere in the town, down Bower Hill, in Lindsey Street or on the Plain, and was always helped uphill by the boys who cadged a lift when they reached level ground, which was freely given.

Douglas played the organ in St. John's Church, as his father had done before him, also at Theydon Garnon Church and possibly other churches on occasions. Despite his obvious problems he was never out of countenance at any time and was much liked and missed when he passed on.

A story now about a good friend of mine Fred Doe, brother of George who, like me, lived opposite the old Co-op where a small parade of shops now stands. I, where the Epping Bookshop stands and Fred where the Indian Restaurant now is. Fred's mother, who incidentally made the best bread pudding that you have ever tasted, began to notice how quickly her tins of condensed milk began to get depleted. So, in order to find out the reason, she filled, up a half empty tin with California Syrup of Figs, shook it up and sat back to await results. Within a day or so Fred suddenly developed a strong desire to have frequent visits to the "Loo". When I confronted by his mother he admitted sucking milk out of one of the holes made in the top whenever his mother went over to the shop or next door. He learned his lesson the hard way.

Bill "Stumpy" Starmar had a one and a half stroke motorbike, or should I say horse-power, a Francis Barnet or DOT or similar, on the back of which he put a notice which said "Speed on Big Boy - Hell aint half full yet". He courted Annie Holgate. Her father disliked Bill and many's the time, when father came home from work a little early, Bill was seen to emerge from the front door making himself scarce. Not deterred Bill eventually married his Annie. Her sister Florrie married another old friend, Ben Peacock from Kelvedon Hatch, a member of the local branch of the Essex' Regiment, we shall meet him again later.

Billy Hills, (from the shop now called Table Talk) of dubious sexual habits, invariably had a monkey on his shoulder. He entertained motor cyclists in his cafe and over the door on the inside had an inscription thus "W.Y.B.M.A.D.I.I.T.Y." which! translated read "Will you buy me a drink if I tell you" which earned Billy many a drink. Hawley's Cafe, nearby, catered for pedal cyclists and the Roof Garden, next door, for both and any local trade.

Two local hay carters, Arthur Sharp from Creeds Farm in Bury Lane, and Jack Nicholls, who lived up a small entrance road next to the Co-op and Mr. Holgate and Charlie Ladhams home, took hay and straw into London and often came back late at night, in the dark. The drivers being a little worse for wear through too much elbow lifting, it seems that the horse, having been pointed towards home, knew where to come, and did.

Charabancs used to come from London bringing people on a Beano, and when stopped at a local pub the Epping boys used to cry out "Throw out your mouldy coppers" and then scramble for whatever was thrown to them.

Clarnicos, a London sweet firm, held an annual race, the turning point being Epping Church, then back to London. I also remember an air race with either the Water Tower or the Church of St. John being the turning point.

Circuses came occasionally with elephants whose deposits on the main road earned many an enterprising lad a shiny sixpence a barrow load, which was not many.

Another interesting pastime, sadly declining today, was the renting out of an allotment, this being done to provide vegetables for ones own consumption. There was a private site by the Bell Inn, owned by Copped Hall, and a larger one in Bury Lane, in the main still there but for how long? In St. John's Road were two sites, one where Albany Court is now, and part of the Bakers Villas site together with part of Lincolns Field. On the other side of St .John's Road, where the old folks complex is, today's Meadow Road site is still going, a few behind the red-bricked terraced houses at the bottom of Lindsey Street,. Frampton Road site, and the Plain (behind the Hole in the Wall Garage on the Thornwood Road)...... Gone.

Before the war and during same, what is now Springfields (off Sunnyside Road) was an allotment site and on the other side of the station bridge, as well as the Cedar Court area were allotments for the use of L.N.E.R. staff. However with houses a priority since the war almost all of these sites have been built on, and, I suppose those still remaining will soon be a thing of the past and the tasteless foods grown with chemicals and god knows what else, will be the norm.

As a grower and exhibitor of some forty years standing, I now what I like.

CHAPTER FOUR

As I said in the previous chapter times change and not always for the better. For sometime now discipline and caning in schools have become dirty words. My contemporaries will, I am sure, agree with me that the cane did them no harm. One was taught respect. Mr Piper the old martinet at School said learn to respect yourself and then you will respect others. Just imagine an army without discipline and a sense of purpose, they would not survive five minutes. Without being controversial, watch a cat with kittens or a dog with puppies who step out of line, they are soon let know who is master. One does not have to be brutal or like Mr. Squeers of Dotheboys Hall, but the cane on the hand only stings for a while and the master was not thought any the less of, quite the reverse. Who knows, time may reverse the present arrangements.

The local religious establishments were many and varied pre war. I was given the option by my father, when I was five years old, of attending some place of worship on Sundays or to stay indoors. I tried St. John's Church but did not like it. It was, I suppose too establishment for me so I opted for the Methodist Sunday School. Most of my mates went there and they seemed to have more time for children.

A football team was set up by the brothers Ball, also a Gymnasium Class. I also attended Mr Farley's revivalist type of religion whose base was over the old Co-op (Epping Galleries). Our friend, assisted by Mr. Teddy Stock, was not given to much humour I am afraid but is was fun. Words to hymns like "When the role is called up yonder" became "When the beer is on the table, I'll be there" and whilst I suppose the majority of us were not religious it did us no harm and indeed could have strengthened our characters.

St. John's was and is the larger denomination in Epping, having had a church, or I believe it was called a chapel of ease, rebuilt at the end of the 1890's and the present tower added in 1908. My "father worked on it, with others. Incumbents have been Canon Olivier, Rev Ovenden, Smith, Nokes and Mortlock.

Most marriages took place there, also at Christmas carol concerts given by the local Hospital Nurses. The Salvation Army and the Town Band performed there occasionally. They also used to put on a Nativity Play.

There is a question regarding the height of the tower and the Water Tower, as to which is the higher, not much in it I would think. Both towers and St. Margaret's chimney are easily seen from the high ground of Epping Upland.

We used to have a Baptist Church on the left hand corner of Bakers Lane run by a Mr Cooper, long gone, as also has the Plymouth Brethren meeting place in Queens Alley. Recently the Congregational shut it's door due to lack of support. The Elim Pentecostal Church still flourishes in Fairfield Road.

Back to the "Congo", as it was affectionately known. I had a Rev. Locke as its minister and was supported by the Church Family (Local Butchers) some members of whom are buried in the church yard. Mr. Locke lived in "Oakridge" on the left of the entrance to Tower Road. A fairly large house with an orchard by the side and a tennis court to the rear, land now being used as allotments.

At the bottom of Bowlands Hill (formerly Hawcock Lane) into Ivy Chimneys stood a large tin building, used by the church army of the Theydon Bois Parish Church. This has now gone.

At the bottom end of Hemnall Street, just prior to Theydon Grove is the Quakers Meeting Rooms, not so very well known.

This building, of gault brick, was built in 1850. It had a wooden fence with double entrance gates, spanned by an iron arch, in the centre of which was a lantern with "Friends Meeting House" on it. The entrance was altered in 1957, the stones for the present front step coming from Beech House, Waltham Abbey which was demolished to make way for the Jewish Cemetery near the Honey Lane access to the M25.

Martin and Ruth Edmunds of the Builders Merchants of Station Road (now Travis Perkins) are buried in the small churchyard as is also Sarah Ellen Wright one of the two Wright sisters who ran "Prospect House School" where Cole the Tailor is today.

There is also a plaque on the building recording the demise of Henry Doubleday the famous Lepidopterist and friend of the earth, whose grave is also there with a stone engraved 1875.

In 1870 Isaac Payne was interred there. He also ran a school on the site of the present Epping Forest District Council Offices, and lived alongside in Vale Cottage.

A small group of friends regularly meet on Sundays. Surprisingly Epping has no Salvation Army, the nearest being at Harlow and Waltham Abbey.

On Church Hill stands the Roman Catholic Church. The house, now a presbytery, was called the Cedars and when I was a lad was owned and lived in by a Charles Ffoliet Denning, a Haulage Contractor who also, at one time, owned the Tower Garage. Mr Dennings father was one of our local doctors whose surgery stood roughly where the Organ Shop is today, near the Church.

The Catholics had a hall in the grounds of the Cedars and on the departure of Mr Denning, took over the house and raised enough money to build their present Church.

So back to the Methodist Chapel, situated on the lower road in the High Street. Eisteddfods were held somewhere in the circuit each year. Members of the congregation were encouraged to participate and, as a young lad of thirteen years I did Schubert's "Who is Sylvia", trained, as were others, by Miss Winnie Green. My two sisters-in-law, Gladys and Nancy Day, also sang. They had excellent voices. Nobby Bland and Winnie Green also sang, as did a choir, whose name escapes me.

The principals who ran the Church were Winnie's father Fred Green, Superintendent, Mr Carpenter, Mr Nape, Miss English, and others, all good folk.

This chapter is going to be a bit of a mixture as I have information on several things, insufficient in themselves to warrant a separate chapter. So a few more anecdotes.

Our old friend Charlie Savage, a local barber, would be cutting someone's hair, or giving them a shave, when his wife called him for tea. Charlie downed tools and departed into his dining room leaving the customer to sit and wait. A local police inspector went in one morning for some razor blades, Charlie was busy and so ignored him. When he pointed out that he was on duty at nine am. Charlie was completely unmoved and continued giving someone a trim. The Inspector went without his razor blades. It was also" fatal to tell Charlie how you wanted your hair cut. He would point out his years as a hairdresser and that he knew exactly how your hair should be cut. So one kept quiet.

Another local barber, Harry Moore, lost his first wife, Hetty, leaving him with five small daughters. The lady who came to his rescue and whom became the second Mrs Moore not only brought up his attractive daughters but

assisted him in the shop, using a pair of electric clippers with some dexterity. When small boys did not keep their heads still they were in danger of having their heads twisted and, if she knew the parents, the boy got a clip round the ears, which concentrated the mind wonderfully, a lovely lady.

A cousin of mine George "China" Hudgill, worked on the local refuse collection lorry and could imitate a Cuckoo very well. You would be surprised when the Cuckoo was heard at various months of the year. He fooled a good many people.

Charlie "Waggie" Ladhams went to a party where he was invited to participate in a game "Sing, Say or pay a forfeit ". Choosing to "Say" he came out with the following, "Here's to the bird who sat on a thistle, pricked his arse which made him whistle".

Bertie Smith lived in a caravan on the Bell Field, behind the buildings used by the town football team as ablutions and dressings rooms. He kept donkeys which he used, on Theydon Plains by Yates Retreat, to give rides to children. One of his donkeys he called "Five Legs" for, at times, obvious reasons.

At the bottom of Sunnyside Road "Porky" Lawrence had a slaughterhouse where he killed pigs and sold the pork and sausages on his round. His wife Phoebe grew some wonderful: roses which she mulched with pig manure and pruned with a bagging hook. Slashing the growth down each year to ground level the subsequent growth seeming not to mind the rough treatment.

Finally, where the Veterinary Practice stands today in Hemnall Street, used to stand a property the Rookery but more generously "The Gant". Here lived Mr Pickman with his family Rose (Moggy) , Bill, Queenie and Sammy, who died aged about thirteen years.

Old Picky, as he was known, kept pigs down Bower Hill across the fields leading to four houses on Stewards Green. He was a bad tempered man generally and I recount a funny story concerning him and our friend "Muddler" Collop.

One evening the Collop family where at tea when all of a sudden a voice shouted out "Collop come out and fight". This went on for some time then Muddler said to his son Albert (you may know him as big Ted from the carpet shop) "Get my gun down off the wall" Apparently Muddler possessed a 410 shotgun which hung on the wall in the kitchen. Having got the gun he opened the front door and there, out on the path, stood Picky, a little worse for wear. Muddler said "If you don't bugger-off I'll shoot you, at which Picky immediately took to his heels.

Mr Pickman was also in the habit of sending his wife round to the "Duke of Wellington" Public House with a jug, for beer. If the lady took longer than he thought she should do he went to look for her, stood behind a fence and as she approached he knocked her flying, beer and all - nice man.

CHAPTER FIVE

A little more now on the history of Epping and other shop keepers in the High Street of later years.

I have spoken before about the unique position of Epping in times past when farmers and drovers from out in the country used tracks etc., to come to Epping, Waltham Market and into London.

Looking at an Ordnance Survey map I was interested what is termed ..a green road.. known as Bolt Cellar, in Bury Lane, which runs from the Thatch Cottage and terminates at Shaftesbury Farm in Lindsey Street.

The area around the cottage was known as Forty Green and I wondered if it could have been the only existing piece of a track perhaps from beyond Thornwood across the fields and continuing from Bury Lane across and through Copped Hall to Waltham Abbey. I had it intimated to me that possibly Forty Green was a small hamlet of which only the Thatch Cottage remains today.

However research of maps back from 1777 do not show any difference from today. Two ponds adjacent are now gone, one had a well at the side which could have been used for drinking water. The fields around, including where St. John's Secondary School now stands, up to the side of Lower Bury Lane and the fields opposite the cottage, towards Copped Hall, and the fields of New Farm were used by Mr George Pegrum of Shaftesbury Farm so Bolt Cellar probably was just an access road for farm vehicles. The Thatch Cottage went with Bury Farm at one time and was used by a farm worker.

This leads to the question of wells. It seem that a lot of these abound on the North Side of the town and, prior to the good Dr Clegg who campaigned for proper drinking water for Epping residents, all of the water came from these wells. One was discovered under the vestry of the Wesleyan Methodist Chapel, am not sure whether before or after the chapel was built. Another I one caused problems in Twankhams Alley, the water being quite polluted.

This 1777 survey map that I have brings to light some interesting possibilities.

Priors-Home Comer, on the Theydon Bois - Epping Road was it the top of Piercing Hill? the old road, were it turns left to meet the top of the hill, leading to the golf course.

Ivy Chimneys was then Hawcock Lane.

Stonehurst, was this the original Stonards ?

Mill Hill on Stonards, in the grounds of Theydon Grove and Mill in the Old Maltings, all very interesting.

At Coopersale Hall lived a Mrs Ann Cheveley, could the small cul-de-sac at Coopersale, opposite the Garnon Bushes, have beer named after this good lady. Conjecture I know but it is perfectly possible.

Half way along Bolt Cellar Lane was Rail Field, an old sewer bed used prior to the setting up of the Northern Outfall at Cobbin Brook. Surely Rayfield, on the Beaconfield Estate, is a corruption of the original.

Shops, pre-war, changed but little, but there were few.. Near Curry's a Mr Cooper opened a Gents Wear Shop Miss. Odells became R. Barron - Chemist, now the L.C.S. Dr Watney's practice became Whiskers - Solicitors after the war as did W. E. Cole who took over the Miss Wrights School after Ambrose moved into Dunns, the Corn Chandler.

Whiskers or Trotter Chapman & Whisker occupied offices over Ambrose until they later moved to their present site.. On the other side the dairy became Geoffrey Drayton and next to Ashworths became a Betting Shop. Public Houses have closed and have been turned into other types of shops, in fact since the last war the several to-ins and fro-ins have now resulted in shops being closed and of those open several are charity shops. There are even three Brass Balls over Bowmans the Jewellers, next to Twankhams Alley.

Whilst talking to a colleague recently he posed the question as to why old Mr Crispus Cottis had no recognition locally, say a blue plaque or similar. Just think, his firm had a large Iron Works to the rear of the now Brunchi Bar, a shop with living accommodation over where that stands. A car repair and petrol station where Curry's now is. In this area he employed moulders, carpenters, painters, iron fighters and labourers, all turning out and repairing agricultural implements. shop assistants, petrol attendants, car repair specialists as well as office staff.

Down Central Drive he ran a brickworks where clay was dug, (until it ran out), and made into bricks. At the entrance to the works stood a pair of cottages. Harry Barricks lived in one. I think he was the foreman of the brickworks. In the other lived George Copping who was employed in the High Street works.

Mr. Cottis was also Justice of the Peace and, I believe, fought in the Boer War and when he returned was met by some of his staff who pulled him up Station Road in a cart, preceded by the Town Band. Employing some hundreds of people at a time where employment was scarce I would have thought him worthy of some recognition.

Whilst talking about Cottis's brickworks, the road leading to it from Station Road was made up, but beyond, a track or greensward similar to Bolt Cellar turned to the right into we now know as Western Avenue and came out at Bell Common next to the site of the old Cottage Hospital, in fact some of it still exists from Western Avenue. A proposed road maybe that never got made, house bricks used as foundations are still there.

CHAPTER SIX

Now we come to the Second World War and the part played in it by the, residents of Epping.

When war was declared in September 1939, those of us of military age had to join the services, work in the mines or in other essential services.

There did exist an armoury and a detachment of the Territorial Army Battalion, the 1st/4th Essex Regiment and some Royal Engineers.

The original headquarters of the former had been in a tin hut in St. John's Road, next to the St. John's Church Hall, but it transferred to the Armoury in Hemnall Street in the 20's.

Quite a few of the local lads joined, you could say for something to do, with a weekly parade, an Annual Camp, and whatever else military people get up to.

Here are the names of some of local lads who belonged, Frank, Fred & George Smith, George and Fred Doe, Arthur "Tubby "Day, Fred "Sailor" Austin, Ernie Law, and from surrounding areas, Ben Peacock (Kelvedon Hatch) , Mr Ashfield (Theydon Bois), Mick Randall and Jack Smith-Gayler (Loughton), Tommy Cook (High Beech), Ted Hazle (Brentwood), Second Lieutenant Edrupt (Ongar), Capt. Noble (Ongar), and Sgt. Major Rose (Ilford). I knew most of these men and I had the pleasure of meeting up with them prior to the battle of El-Alamein.

These lads have a unique place in history, arriving in Egypt soon after I did in 1941, the 1st/4th went to Cyprus for four months, then to Palestine for six weeks and then up into the Western Desert to Fort Capuzzo at the top of the escarpment just beyond the wire. Here they held the line whilst the 1st Battalion Essex broke out of Tobruk. My cousin George Sharp was killed at El-Duda. The 1st/4th were themselves surrounded at Mersa Matruh but got out to reform at Alamein, losing two hundred and forty men in the process. They held the line against German Panzers with great difficulty but gradually the line was built up and held until October.

The 1st/4th Battalion, at the battle of El-Alamein, was the first through the line in the break out. "B" Company were first through, not without loss, Freddy Smith was killed and Colonel Arthur Noble, wounded. In the advance the battalion distinguished itself, in Tunisia at Wadi-Akarit then Gabes. They had a bad time at Jebel BIeda and Enfidaville and Frank Smith was lost at Benghazi.

Taken out of the line they transferred to the First Army with the Seventh Armoured Division to meet up at Medjez-El-Bab. A joint attack on Tunis saw them clearing up at Cape-Bon after which they returned to Egypt by road.

Moving to Italy they fought at Cassino, having bad losses again. At this time, having been abroad for four years, they were due home but went instead to Greece for the E.L.A.S. uprising. After this campaign the battalion was made up to strength and went to Macedonia until the war ended. I should have said the Essex was part of the 5th Brigade of the 4th Indian Division, you will agree, a worthy unit.

Just an interesting aside to the forgoing, Fred "Sailor" Austin was, I believe, the oldest serving member of the 1st/4th Battalion in his forties when they went overseas. At El-Alamein Col. Noble sent him and another soldier home to England as escorts to two prisoners (members of the unit deemed unsuitable for various reasons). Unbeknown to "Sailor" instructions were also sent that he be kept in England. Imagine then Col. Noble's face when, a few weeks later, "Sailor" appeared back with "c" company having convinced the authorities at home that, as a member of the Essex, he had a right to be with them, so the Colonel made "Sailor" his runner.

As a member of the Desert Air Force I met some of these jokers in Cairo, when they did Garrison Duty there, and like them I did my service on the Western Desert which, believe you me, was some experience. But I have lived to tell the tale, lots of Essex lads did not.

Now another Epping man's activities are worth recording here. Ernest Flack from St. John's Road, was in reserved occupation at the start of the war, a fireman with two friends Alf "Rusty" Turner and Les Hammond who's father Charlie had the fish shop in the High Street. At the instigation of a colleague they joined up and became drivers in the R.A.S.C. section of the 51st Highland Division. At St. Valery, after the retreat to Dunkirk, a shell killed Alf and Les and severely wounded Ernie in the face and hip. He ended up a prisoner of war in a French hospital run by nuns and a French doctor. These good people treated him and his fellow prisoners very well, keeping them from the Germans, who regularly required reports as to their health in order to send them to a Stalag (Prison Camp). Ernie never went to one, his jaw had been wired up and skin grafts, taken from under his arm, meant that hair grew inside his mouth. His hip was plated, and is to this day. With the help of the French Resistance and a lovely French lady he was passed, together with two colleagues, by stages, one at the bottom for a cart loaded with manure, until they reached the Pyrenees, which they had to walk over into Spain and on to Madrid. Eventually they were handed over to the British authorities at Gibraltar and then home via a battleship. This is but a brief story from me but if you wish to know more the library has "Nor Iron Bars a Cage" by Sgt. Aston, the story of Capt. Collie, Sgt. Aston and Driver Ernest Flack. M. M. 51st Highland Division, a complete account and well worth reading.

I wonder how many people can remember swimming in the lake on the plain? My own father skated on it at one time, and I can remember bathing huts and a diving board being there. Mind you the plain was virtually free from trees before the second world war. As I have said cricket was played on it and, regularly on Boxing Day, the hounds used to meet for a fox hunt. But all of this died the death either before the first world war or after this last

one.

A certain Captain Ball lived on the Thornwood Road side of the plain and regularly walked two large Deerhounds on the common ground, and the afore station that has taken place over several years it has been attributed to him. It is said that he planted acorns each time he took his dogs for a walk, so now there is very little common left.

Another brickfield was worked along the Thornwood Road where Savill's Tractors is. Strange how there seems to be brick clay only in small areas. There, in the Woodyard in the forest on the North Weald Road, at Brickfield Road in Coopersale and at Cottis's in Centre Drive It is obvious that, although Essex is renowned for it's clay soil, not all of it was suitable for brick making.

St. Margaret's Hospital has had it's ups and downs over the years. Originally a Pest House, it became a Union Workhouse catering for the disadvantaged and the tramp population (or Knights of the road) and was known as the "Spike". It was then turned into a Hospital with huts added; it also had a TB Clinic and Section. During the war it did sterling service and, after the creation of the National Health Service, looked after the welfare of hundreds of people. But now, with the current Government's policy of privatising everything that moves, it is being relegated to a backwater seeking to provide for Mental Health patients in the main.

But all is not lost it's time will come again, hopefully in the not too distant future, when it will once again fulfil its real function of a local Community Hospital.

I really have exhausted my excuse for writing another topical History of Epping so I will close, hoping that one again those of you who read the efforts here will have a clearer insight on this wonderful Essex Town and perhaps, like me, would not want to live anywhere else.